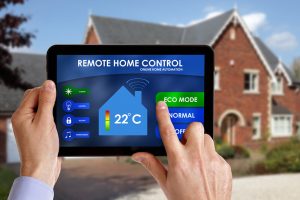 Nowadays, with everything seemingly digital and connected, it only makes sense that our heating system is too. With everything accessible from our smartphone, it was only a matter of time before manufacturers began offering heating systems that could be as well.
Below, we will be going over a few of the different smart heating control systems you should consider investing in today.
1. Google's Nest Learning Thermostat (3rd Generation)
This is one of the more popular options to choose from available in the marketplace. There is a good reason for this. It's easy to see how popular it is when you look at the nearly 2,000 online reviews it's garnered across the Internet. This only shows how well-received it been among homeowners everywhere. It has one of the sleeker designs you will find being sold in the marketplace. Because of this, it is certainly one of the most appealing. Also, it does offer a lot to like as far as its connectivity options that it comes with. It can be seamlessly connected to both Google and Amazon's smart devices.
This thermostat can be controlled through the unit itself or remotely via the app. It can even be hooked up to control your hot water. While it doesn't come as standard, you can buy TRVs separately which can be outfitted to individual radiators to give you zone control over your heating.
For those who are techies, you will be able to build up a fully connected home using Google Nest. This system will also be able to offer you the entertainment streaming you desire. It can even offer you full control over your smart lighting, Nest security cameras, and even your Nest Protect system which includes both your smart and carbon monoxide alarms.
Approximate Cost: £250
2. Hive Active Heating 2
Don't confuse Hive with just being a smart heating system. Much like you can with Google Nest, it can act as a central hub for everything smart in your home including your security system, smart plugs, and smart bulbs. While it's not a self-learning system, it is very advanced and easy to control through its centralised app (Hive Hub). While you cannot control it manually through the device itself, it can be controlled directly via the app and the website.
Hive Active Heating is a good device that offers advanced connectivity that you may want. It even offers Geofencing which can automatically dial down your home's heating system when you leave and it fires it back up when you get back. This system does not have the TRV's included, but they can be bought separately. Doing so can help you turn your Hive Hub into a fully multi-zone system.
It is also worth noting that the system and app are owned and controlled by British Gas, but are compatible with all energy suppliers.
Approximate Cost: £250
3. Tado Smart Thermostat V3
This is one of the newer options available in the marketplace. This smart thermostat offers a lot of features that you may want in a system. It includes its built-in energy-saving calculator, both direct and remote control, open window detection, and even Geofencing. The system also comes equipped with smart radiator thermostats that you can use with, for example, German ceramic radiators. This will allow you to effectively control the temperature of every room in your home. This can keep you from wasting energy in rooms that you don't need to heat at the moment.
This type of precision is what helps to separate Tado from the other options in the marketplace. Because of its precise location features offered by the GPS, it can detect where you are in your home which can help you deliver heat where you need it the most. To access this feature, you will need to pay for a subscription. However, it is well worth it for the potential cost savings.
Approximate Cost: £200
4. Google Nest Thermostat E
This isn't the most stylish thermostat you will find being sold, but it does offer a good amount of the functionality you may want from a smart thermostat. While the Nest Learning Thermostat is much more advanced and stylish, the Nest E is much easier to install. To install it, you would replace the thermostat mounted on your wall without having to hook up anything else as there is no boiler connection needed.
Because of this, it doesn't offer the advanced functionality you will get with the other options in this article. Also, it is not priced low enough to make the loss of features and advanced functionality worth it. However, it does happen to be convenient and an easy-to-use thermostat that has a low barrier to entry for homeowners. Therefore, it could be a decent option to consider if that is what you are looking for.
Approximate Cost: £200